Culture Café Artist Animateurs
The second series of Culture Café Animateurs is now closed.
Through a second series of Culture Café Animateurs, we are looking to support contemporary artists or creative practitioners who have been negatively impacted by the COVID-19 lockdown restrictions.
We know that artists and makers are being impacted by economic hardship and social isolation, particularly due to loss of free-lance work and access to usual making spaces and collaborators. At this challenging time, and given the current lockdown restrictions, we are inviting artists and practitioners to explore and try out ways to stimulate and strengthen the Culture Café model and increase benefit to the people who attend the network events.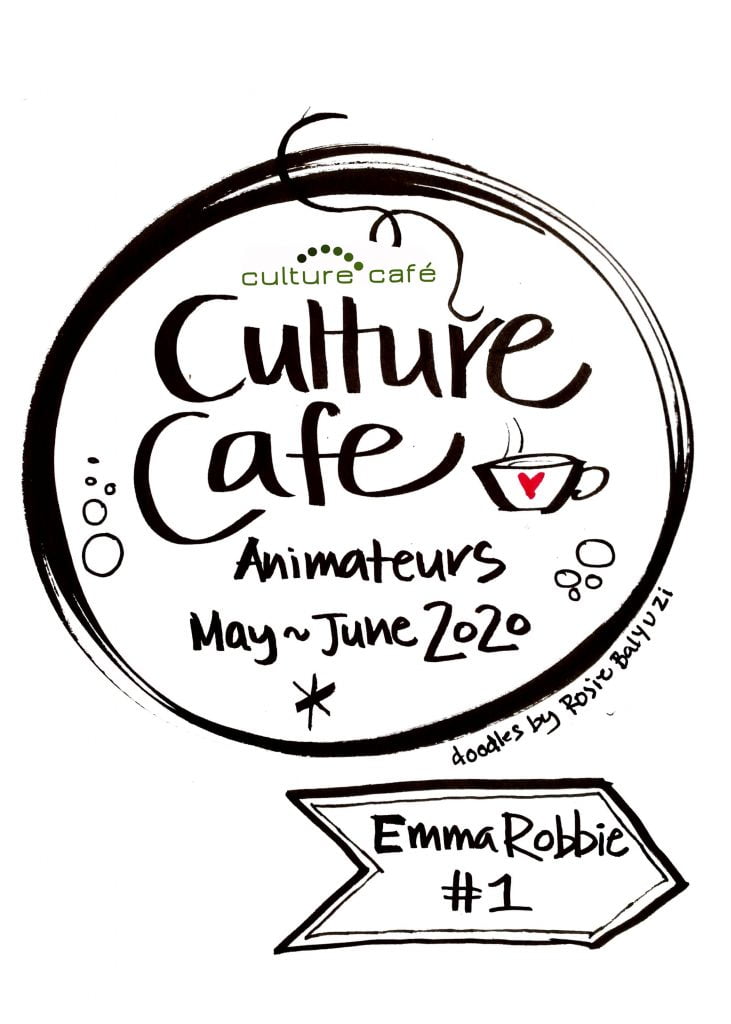 During the first series, we were able to support four artists and one collective of Culture Café Animateurs who took over the Culture Café platform. The brief for the second series, is again, open and non-prescriptive, apart from what is written above, the only expectations are that the activity must stay true to the spirit of the Culture Café Manifesto and include some form of networking. Artists, who must come from the Moray region, can use any artistic medium and can also choose to work in collaboration with another artist, community group or business.
Below are several provocations or calls to action. The ideas can be re-shaped, recycled, upcycled, or discarded and replaced.
The means for survival. What are they? Do you need help?
The Culture Café's success as a network is built upon the premise that if you bring artists together, give them something good to eat and drink; the rest will happen. How can this model be adapted fit within current restrictions?
What questions are the artists and creative practitioners of Moray asking right now? Does anyone have any answers?
Are you/we/they maintaining a creative practice? Has it changed?
Culture Café views the role of the artist as a highly valued heart of society and promotes the fundamental idea of art as a conversation about renewal, respect, resilience and relationships.
When we come out of this latest crisis, will we be stronger?
Animateur activities are entirely for the artist to generate and create, but help is available. Here are some suggestions for activities; again, feel free to use them, shape them, recycle them, ignore them, find your own:
Online Culture Cafés – once a week / every day/ all-day
Bake biscuits and deliver by bike
Skill and resource sharing
Culture Café social media take-over
Get some online content out there
Conversations with / interview the artist
Daily Blog
Culture Café resources include a website, Facebook Page, mailing list, event booking, Zoom Pro account with unlimited meeting time, Instagram, Twitter accounts and the individual and collective experience and skill of the Culture Café members. There is a small expenses budget in addition to the £833 fee. We would expect that the Animateur Support will also be given by Dance North staff, who are providing project co-ordination in kind.
WHEN: Funding requests will be accepted from Tuesday 28 July until 5 pm on Friday 31 August, and will be assessed and offered on a rolling basis. All projects must be completed by 30 September 2020.
WHO CAN APPLY: The Animateur posts are open to artists and practitioners resident in Moray. Priority will be given to professional level artists and practitioners who have been negatively impacted by the COVID-19 lockdown restrictions.
HOW TO APPLY: Please submit a short description of your interest and experience of Culture Café, and how you might use your creative practice in an Animateur role. Funding requests must not exceed one side of an A4 page but may include illustrations and images, or you can submit an audio/video recording of no more than 2mins 30sec. Please include a short biography within your proposal. Email your funding request to info@culturecafe.scot, including any relevant personal details, practice, and your preferred timeline to carry out the commission. As mentioned above, applications will be accepted on a rolling programme up to Friday 31 August.
SELECTION: Funding requests will be assessed on a rolling basis, with the aim of notifying artists within 14 days. A selection panel, of three to five people, will vary throughout the programme and will always include a majority of local or regional practising artists. Selection will be based on how well proposals fit with the above brief and general outcomes, and the ability of the project to be realised within the budget and timeframe.
BACKGROUND: Moray Culture Café was launched in 2011, and there have now been over thirty Culture Café events, hosted by a range of individuals and organisations, always in partnership with a local food producer or provider. Culture Café is designed as a meeting space for artists and those who work in the arts and related sectors, Culture Café brings people together to network, share ideas and good practice, develop partnerships and support one another. Culture Café is community-owned, adapting and responding to artists interests and concerns.
The Culture Café Manifesto is available on our website or Facebook page. If you have any questions, please email info@culturecafe.scot
Culture Café Animateurs have been made possible by Highlands and Islands Enterprise Community Support Fund and produced by Dance North Scotland on behalf of the Culture Café network.